---
Mefford Station
These pictures are of Mefford Station, built by George Mefford in 1787. I don't know when the first photo was taken. The second one appeared in the Kentucky Ancestors in 1966 and implied that the restoration was complete. In comparing the two photos, it appears that the original building was just a single room with a small attic. Later, a room was added to the front and a porch was added to the back and the entire building was covered with lapboard siding. The restored building seems to have had these additions removed. The first photo was taken from the back, while the second photo was taken from the front. dlm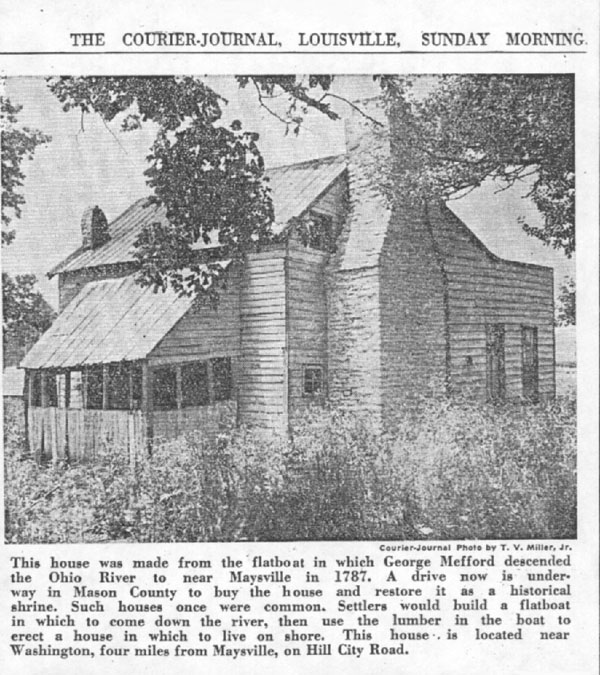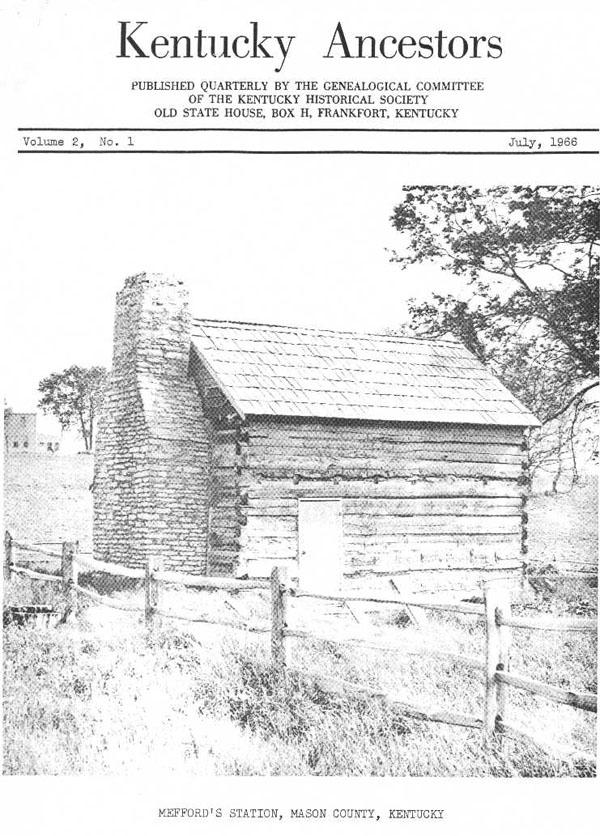 MASON COUNTY, KENTUCKY, COURT AND OTHER RECORDS
Contributed by
Mrs. Lula Reed Boss [1]
Maysville, Kentucky
GEORGE MEFFORD * PATRIOT Washington County Pennsylvania to Mason Co., Ky
OLD FORT BEING RESTORED
The disposition (in part) of John Riggs taken in Mason County July 3, 1797. (Will Book A - page 323) states: "Same down the Ohio Rivet to the District of Kentucky, in company with John Drinen, Thomas Mills, Lot Masters and George Mefford, in May,1783." "We made location on the east fork of Cabin Creek; at one place cutting the initials of George Mefford's name on a honey locusts."
The "Frontier Service" of George Mefford has been accepted by the National Society, Daughters of the American Revolution - National Nos. 431610 and 431611.
"The first settler with his family near Maysville and out side of a blockhouse was George Mefford, who lived in a cabin where his son, John Mefford lived until his death on April 7, 1872, two miles due south of Maysville. The "Boathouse" as it is called was constructed from the timbers of the old broadhorn George Mefford steered down the Ohio River. The spot was known in 1787 as "Mefford's Station." George Mefford was one of the first trustees of Maysville in 1787, and his son John was the third child born in Mason County, born December 4, 1787." (From: "History of Maysville and Mason County," by G. Glenn Clift, page 55)
MEFFORD'S FORT - Historic landmark, on the Maple Leaf Road a half mile from its junction with historic U.S. 68, it is the only original fort of the Revolutionary War left standing in Kentucky, and it is the last of the flatboat houses. Early settlers so constructed their flatboats that after they floated down the Ohio to Limestone (now Maysville) they could take them apart and use the materials to build better houses on the forest-clad hillsides of Kentucky. This old fort is being restored under the sponsorship of the Mason County Historical Society and will be one of the states greatest tourist attractions and the children of this and coming generations can behold the wide cherry flatboat boards that form the walls.
The following records of the Mefford family are in possession of Mrs. Walter Reed Richardson, R. R. #1, Maysville, Kentucky, who is a descendant of John Mefford, "third child born in Mason County."
"This record begins with Andrew Conrad Mefford an Englishman [2]. He and his wife came from Frankfurt, Germany (the wife was German). We find no records of the date of his coming but date of other events enable us to judge that it was in/or about the year 1757. The Meffords first landed in Maryland. The next record we find of him is that he was a Captain in the Revolutionary War. After the war, he lived in/or near Pittsburgh, Pennsylvania.
"Andrew Mefford and wife were the parents of two sons and two daughters (these were all that came to Kentucky about 1785 or 1786). George Mefford, their son, [3] was born at sea about 1757 and died October 18, 1814 in Mason County, Kentucky. John Mefford, brother of George, was born April 19, 1764 and died April 21, 1834.
"George Mefford was a gun maker by trade and we suppose made guns for the American Army during the Revolutionary War. On July 27, 1779, he married Malinda Masters, (English), who was born January 18, 1763.
They were the parents of thirteen children:
Andrew Mefford born January 8, 1781
Ann Mefford born February 6, 1783
Samuel Mefford born May21, 1785
Johan Mefford born December 4, 1787
Nathan Mefford born February 17, 1790
Mary Mefford born June 5, 1792
Elizabeth Mefford born March 15, 1795
George Mefford, Jr., born April 23, 1797
Sarah Mefford born January 27, 1799
Lydia Mefford born November 14, 1800
Thomas Mefford born February 25, 1803
Joshua Mefford born March 10, 1805
Caleb Mefford born February 16, 1808
George Mefford (Sr) died October 18, 1814. Melinda (Masters) Mefford, his widow, married secondly Ennis Duncan on September 25, 1816. She was deceased by September, 1848
"The foregoing records have been gathered from various sources. Partly from the Bible said to have belonged to the first George Mefford. At the time this record was put together the Bible was in possession of Mary Mefford Purdum living near Georgetown, Ohio. She was a granddaughter of George Mefford. Several of the children of George Mefford went to Brown County, Ohio, to live.
"John Mefford, son of Andrew Conrad Mefford, went to Brown County, Ohio, where many of his descendants still live. One sister married a Me. Riggs or Briggs and went to Ohio. The other sister married a Mr. Walker, for who Ada Walker Mefford was named."
Of the thirteen children:
1. Andrew Mefford - md 8-31-1802, Susannah Burns. Deed Book T - page 106 * dated: 8-22-1818, show they were residents of Greenup County, Missouri. (Deed Book 56 - page 283 *)
2. Ann (Nancy) Mefford - md 4-25-1799, Thomas Truman Greenfield Waring, son of Col. Thomas and Lydia (Walton) Waring. Dee Book 60 - page 130* - dated: 2-27-1850, they were residents of Greenup county, Kentucky.
3. Samuel Mefford - md 1-17-1805, Elizabeth Taylor, daughter of George Taylor, SR. Deed Book S - page 217 * - dated: 5-12-1818, they were residents of Mason County, Ky.
4. John Mefford - md 1-17-1817, Jane Blair, daughter of Joseph Blair. He md 2nd 3-14-1840, Nancy McNeal. Jane (Blair) Mefford died in 1839. John Mefford died in Mason County, April 7, 1872.
5. Nathan Mefford - Deed Book T - Page 136 *- dated: 10-12-1818, e was living in Mason County, Ky. No further record.
6. Mary Mefford - md 4-17-1806, Thomas Evans. They were living in Adams County, Ohio, in 1817. Deed Book R. - page 455*
7. Elizabeth Mefford - md Ellis Schoefield. Deed Book T - page 108* dated: 3-6-1818, residents of Mason County, Ky.
8. George Mefford, Jr. - died in Mason County, 11-11-1832; md Nancy Brown (born 6-4-1798; died 8-18-1849, "granddaughter of Barberry (Evans) John, widow of John John, "a Revolutionary Soldier.)
9. Sarah Mefford - died 4-18-1860; md 6-12-1817, Carter R. Bell, son of Charles Bell and wife Sarah. They were living in Fleming County, Ky. When their son, Col. A. John Bell, was born 7-30-1824. Deed Book 64 - page 139 * - dated: 8-29-1855, they were residing in Maysville, Ky.
10. Lydia Mefford - md 8-24-1820, Samuel Blair, son of Joseph Blair, Deed Book 63 - page 380 *- dated: 1-16-1855 - living in Brown County, Ohio.
11. Thomas Mefford - md in Ohio, July, 1825, Ellen (Eleanor) Hodkins. Residents of Brown County. Ohio, in 1836 - Deed Book 43, page 153*
12. Joshua Mefford - md Susan Hodkins. Living in Brown County, Ohio, in 1830. Deed Book 34 - page 168*
13. Caleb Mefford - He was living in Mason County, Ky. Aug. 22, 1829. Deed Book 33 - page 364 * No further record.
*All Mason County, Kentucky, court records when each child sold: "undivided one-thrieteenth part of land, being the land which descended from George Mefford, deceased, to his children."
Carter Bell was born 7-8-1793 - died 5-8-1866
---
[1] Although I have taken pains to copy the information exactly as it appears in the original, I am inserting comments and information which I believe to be corrections and more accurate. All the footnotes in italics are not from the original. David L. Mefford 7-9-2000. [Back]
[2]The family myth that Andrew (George?) was English seems to have arisen from the time when all of the immigrants to America, prior to the Revolution, had to swear allegiance to the King of England, hence becoming Englishmen. If he was English, why did he emigrate from Germany, where so many other "German" Mefferts also came from? See www.mefford.org/genealogy/AreWeEnglish.htm for more back ground. [Back]
[3] Owing to the tremendous number of similar names in the Meffert family, i.e., Andrew, George, John, Conrad, etc. it is difficult to sort out the real connections. Betty Mefford, in The German Meffords, states that George's father was George Conrad Meffert, Sr, born about 1729 in Germany, but Terry Bodkin at http://www.tbgen.com/gen/index.html, states that George's father was Johanne George Mefford, b. 1730. [Back]